The vibrant and clean look of a great exterior paint job can be what makes your home the envy of the neighborhood.
Even if your home has the curb appeal you love, it won't last forever. The average homeowner gets their home painted every five or so years.
Letting the sun, rain, and other natural elements deteriorate a once gorgeous paint job can lead to decreased property value and, unfortunately, some disdain for your home's appearance.
If your home's exterior looks lackluster, it might be time for a fresh coat of paint. That's where our painting experts come into play. But before you hire our exterior Van Goughs to start painting, there are a few things you'll need to do to prepare your home for the job.
Let's get into everything you need to do to ensure your home is ready when our team at Final Cut shows up to bring the beauty back into your home.
Why Get a Paint Job in the First Place?
Before we dive into what you need to do, we should explain the big "whys!"
First and foremost, a fresh coat of paint makes your home look and feel new again. This can bring back that feeling you felt the first time you saw your "forever home."
A new paint job can make a difference in emotions concerning your home! When your exterior looks fabulous, you'll be ready to host relatives, chat on the porch in the evenings, and show off your new paint job on NextDoor (it's okay to be a little vain)!
Preparing Your Home for an Exterior Paint Job
You're tired of peeling, faded paint on your home and ready for us to give your home a makeover! You made the right choice to come to us for help! Let's discuss what you can do to prepare your home for our artistry.
Get Your Plants to Safety!
You may be the law in your home, but you aren't the Queen of Hearts! So painting your flowers shouldn't be on your to-do list in this process. Before we start painting, we'll take some time to protect your landscaping from accidental splatters and spills that could occur.
When we're protecting your landscape, we'll cover flower beds with plastic sheeting or drop cloths and tape them down so they don't blow away in the wind. We also move any patio furniture or other items from where we'll be working, so they don't accidentally get a new paint job of their own. And if possible, we'll cover any exposed grass areas with plastic sheeting as well; this will protect it from footprints and spilled paint cans.
Blast Away Dirt With a Power Wash
First, we'll pressure wash your home's exterior. Before we can start painting, the entire surface needs cleaning. Power washing removes any dirt, grime, or mildew that built up over time.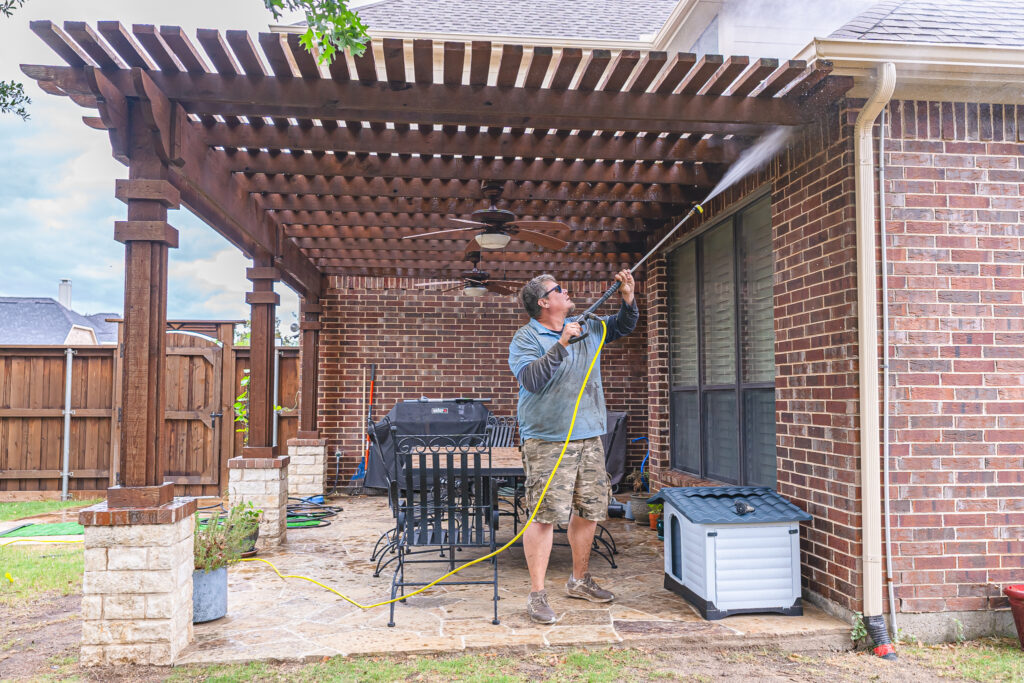 You shouldn't have to power wash your own home; that's why we've got you covered! Our team of professionals can step in early and help you with this critical step in the preparation process.
Scrape Off That Hideous Peeling Paint
Once we've pressure washed your home, we must scrape off any loose or chipped paint. This step is vital because it will help the new paint adhere better and create a smooth finish.
It's also essential for aesthetic reasons and prevents any visible imperfections. Once the loose paint is gone, we'll use a sanding block to lightly sand down any areas where the paint has started to peel.
Repair Siding Damage
Once your siding is clean, look closely at it for any cracks, holes, or other damage we'll need to repair before painting. Perfect siding helps ensure your new paint job looks its best and lasts many years. Our team specializes in siding repairs and replacements and can give you the solutions you need to get your home back in shape.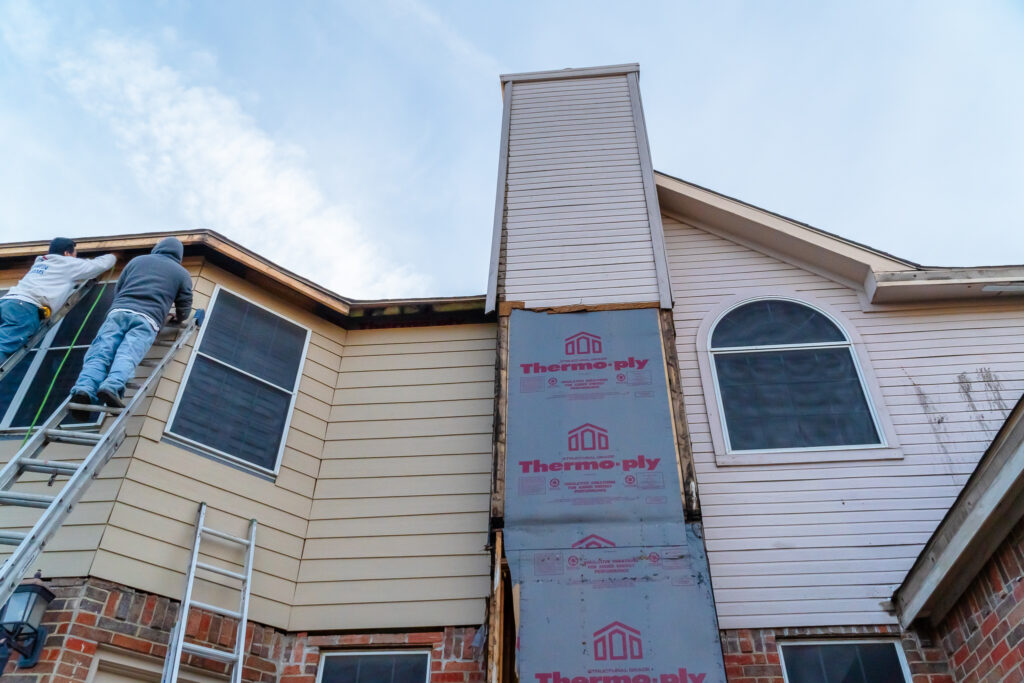 Outside of siding, it's also essential to caulk any cracks or gaps in your home's exterior. Cracks can let moisture seep in, leading to wood rot or mold growth.
By letting us caulk these cracks before we start painting, we can help prevent future problems and ensure your new paint job looks its best.
Make A Difference From the Inside Out! Call Final Cut Roofing & Construction, Today!
Once we've prepped your home. all that's left is to let us paint a beautiful exterior and let you enjoy your home! We believe your paint job should make your home turn heads in your neighborhood. At Final Cut, we provide a great way to freshen up your home, add beauty to its appearance, and protect it from the elements.
We're ready to help you fall in love with how your house looks. Schedule your consultation today!