Are you planning to give your kitchen or bathroom a jaw-dropping remodel? A perfect countertop could be the finishing touch to your ideal design.
But, with many options available, deciding on the right countertop material can be more complex than choosing the perfect pair of shoes for a night out.
Fret not, my fellow remodeling enthusiasts! Final Cut's got you covered with this ultimate guide to different types of countertop materials, their maintenance needs, what sets them apart, and whether a specific installation process is involved.
Quartz: The Durable and Low-Maintenance Countertop Material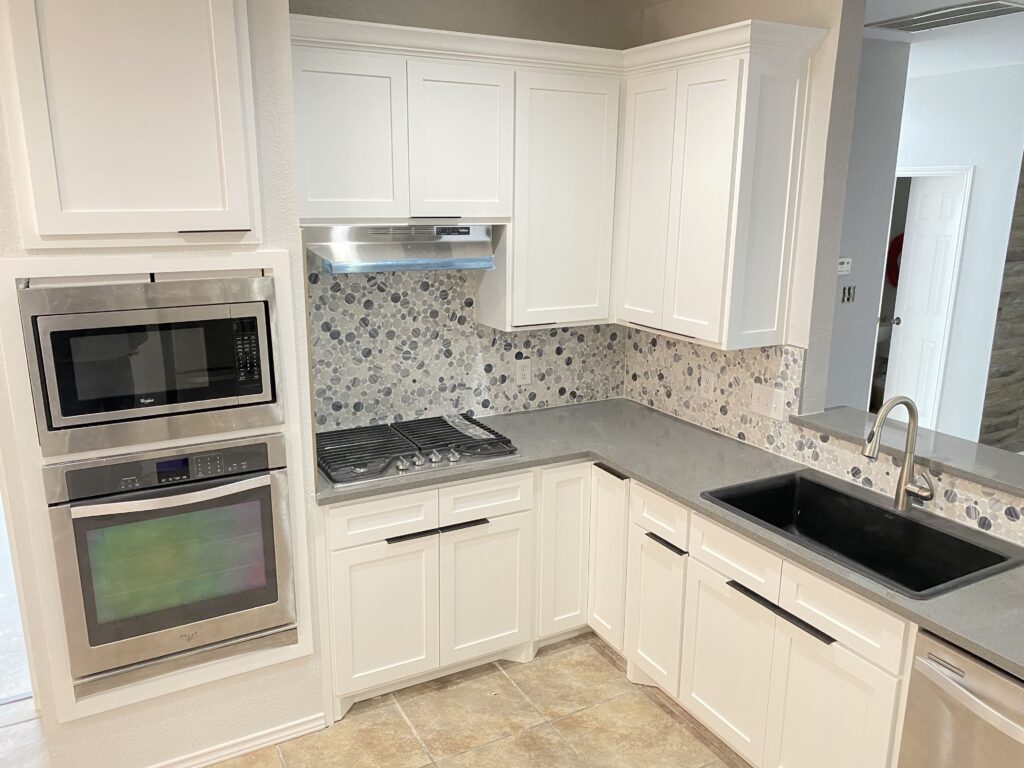 Quartz is your new best friend if you're looking for an incredibly durable and low-maintenance material. Made from natural quartz crystals and resin binders, quartz countertops are perfect for families on the go because they are resistant to stains, scratches, and heat.
They are also non-porous countertops that require minimal maintenance and promote easy cleaning and germ-free counter space.
Good news for you: we can install the quartz countertop of your dreams! We ensure a perfect fit and level surface with every job. We can even help create custom edges that let your quartz countertop blend seamlessly with the rest of your kitchen space.
Granite: For Those Who Appreciate Natural Beauty
If you're a woodsy person in-touch with their natural side, granite countertops are your choice. We often recommend granite materials for clients who appreciate the authentic beauty of natural stone.
Each slab has its unique pattern, offering a one-of-a-kind visual appeal that you can proudly show off to visitors.
While aesthetically pleasing, granite countertops do demand more maintenance than other counterparts. We encourage you to find a local handyman to schedule periodic sealing every 3-5 years to protect them from stains. You must also clean them with a granite-specific cleaner.
Granite countertops are strong and heat-resistant. However, they are still porous and prone to chipping under just the right amount of pressure.
Granite slabs are heavy and require proper leveling and support. Fortunately, you don't have to be a circus strong man to enjoy granite countertops in your home. Let our installation experts bring a slight touch of nature into your home.
Marble: The Epitome of Luxury
Marble countertops exude elegance, sophistication, and luxury. If living like royalty is your vision, you can't go wrong with marble.
Keep in mind, however, that royalty comes at a price. Marble is prone to etching and staining.
So, it requires sealing and maintenance every six months to a year.
It's also susceptible to heat damage, so be cautious with your hot pots and pans. The weight and delicacy of these countertops necessitate professional installation.
Our experience with marble countertop installation ensures a well-supported finish that exudes the beauty and elegance you crave from your countertop.
Butcher Block: The Charming and Practical Rustic Countertop
Cottage core is all the craze right now. If you enjoy the warm, inviting, and rustic vibe, butcher block countertops are your go-to choice.
Not only do they have a charming appearance that will impress guests, but they're also instrumental as an effective food prep surface.
Made from solid wood or bamboo, they do, however, require special care. Regular oiling with food-safe mineral oils or conditioners is mandatory to prevent warping, cracking, and bacterial growth.
Also, scratches on these surfaces are inevitable, but we can come to your home, sand them down and re-oil your countertops for a refreshed look.
Concrete: A Modern and Customizable Statement Piece
Concrete countertops are perfect for industrial, contemporary, and minimalist enthusiasts. Concrete countertops are available in a variety of colors and finishes. This makes them one of the most customizable options for your specifications.
Although they have a hard, edgy look, concrete countertops require occasional sealing to safeguard against staining and heat damage.
Regular cleaning with mild detergent will keep your concrete counters looking sleek and new.
Regarding installation, we have the experience to pour and shape your concrete countertops on-site.
Trust us to add a touch of modern beauty to your home.
Enjoy Your Custom Countertop Finish With Final Cut's Help!
No matter your aesthetic, there is a countertop material on the market that will complete the perfect look for your home. Whether you are remodeling your bathroom or kitchen or are just sick of the sight of your old countertops, we'll be here to issue a perfect and personalized installation.
Final Cut is Dallas's most trusted contractor, and we're ready to show you why. Just imagine your new countertops' beauty and aesthetics every time you step into your kitchen or bathroom. You'll enjoy every moment and every family gathering, knowing the demolition you went through was well worth it. Let's get that process started today.
Contact us today to schedule your consultation.