More homeowners in Frisco, TX are starting to see the benefits of synthetic underlayment!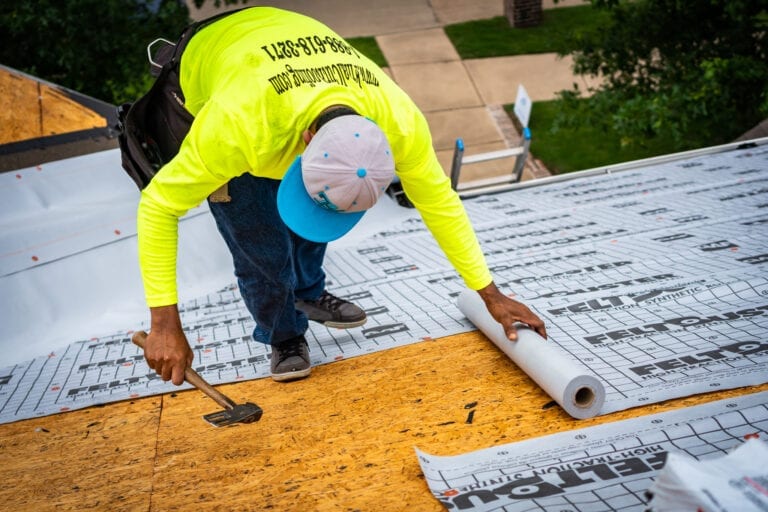 There are a lot of benefits to synthetic underlayment. For that reason, synthetic underlayment has become one of the most talked-about products amongst homeowners and roofing contractors in Frisco, TX. Unfortunately, there can be some misunderstanding about its benefits. In this article, we're going to break down the top five benefits of synthetic underlayment. As a homeowner, your goal is to extend the life of your roof. You don't want to be surprised by costly roof repairs. Choosing the right roofing system is a big part of that process. Synthetic underlayment is the product of woven polypropylene and polymer, which makes it up to 800% stronger than traditional felt. Scientific jargon aside, synthetic underlayment is a high-quality product that will add tremendous value to your home for years to come. So what are the benefits of synthetic underlayment?
#1 – Stands Up to High Winds Like a Boss!
According to the Weather Channel, wind storms in north Texas can reach sustains speed of up to 67 miles per hour. These storms can inflict serious damage to your roof. This is just one of the reasons why more of your neighbors are choosing synthetic underlayment. This high-tech material can withstand extreme weather conditions that would otherwise reak havoc on your home. Synthetic underlayment is so strong it can withstand powerful winds. Choosing synthetic underlayment is one of the best ways to ensure that you'll enjoy peace of mind when the next wind storm is heading your way.
#2 – Tear-Resistant Like You Won't Believe
Another benefit of synthetic underlayment has proven to be a much more superior underlayment choice. Our team loves the reaction we get from homeowners when we demonstrate a comparison in person. It's highly resistant to rips and tears, especially during the installation process. It's so strong that it can even protect your roof from falling debris such as small tree limbs. In short, synthetic underlayment doesn't fall apart or damage easily. This stuff is tough and built to last and withstand the test of time.
#3 – Water-Resistant Protection King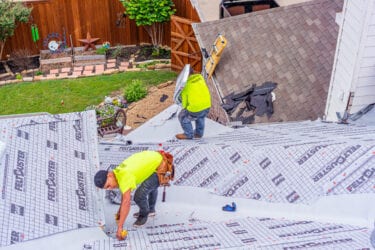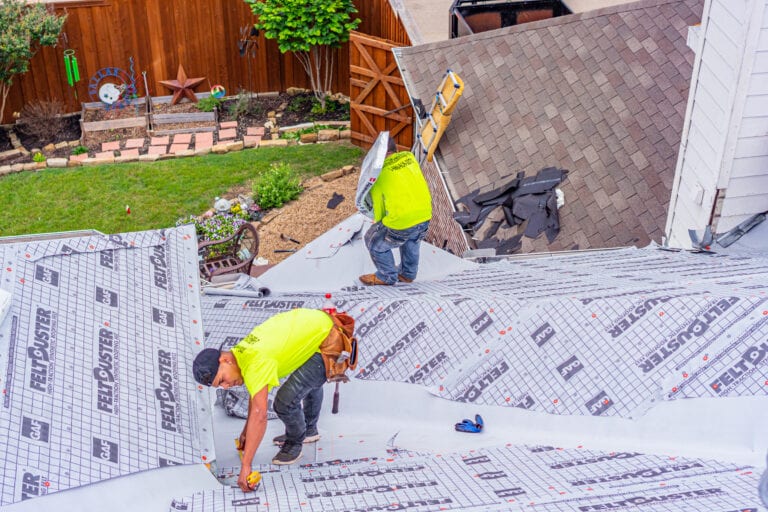 Synthetic underlayment is water-resistant which makes it difficult for water to easily enter your home. There's no need to panic when your roofing shingles go flying off during a wind storm. It provides a superior moisture barrier which will help keep rainwater out until our team arrives. With this layer of protection, you'll drastically decrease the chance of rainwater entering your home. One notable issue arises during the installation is when a small rainstorm pops up out of nowhere. This can cause ordinary felt to absorb the rain, get soggy, and moldy. Fortunately, with synthetic underlayment, it can weather the storm and keep the decking dry to continue the project. It's important to understand that roof leaks can cause lots of interior damage. It only makes sense to use the best product on the market to protect your most expensive investment, your home!
#4 – UV Protection Because It Matters
Traditional underlayment doesn't stand a chance against the sun's UV rays. After weeks of exposure, ordinary felt deteriorates and leaves the sheeting vulnerable to rotting. This lack of UV protection causes ordinary roofing felt to absorb moisture and deteriorate quickly. Soon, your roof sheeting will begin to rot and introduce even more serious repairs. On the other hand, the benefits of synthetic underlayment continue to shine and can withstand the sun's UV rays for up to six months. You'll virtually eliminate roof sheeting repairs and save hundreds of dollars in costly repairs.
#5 – Slip Resistant For Safer Working Conditions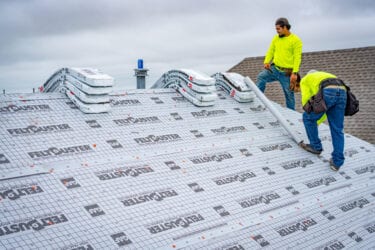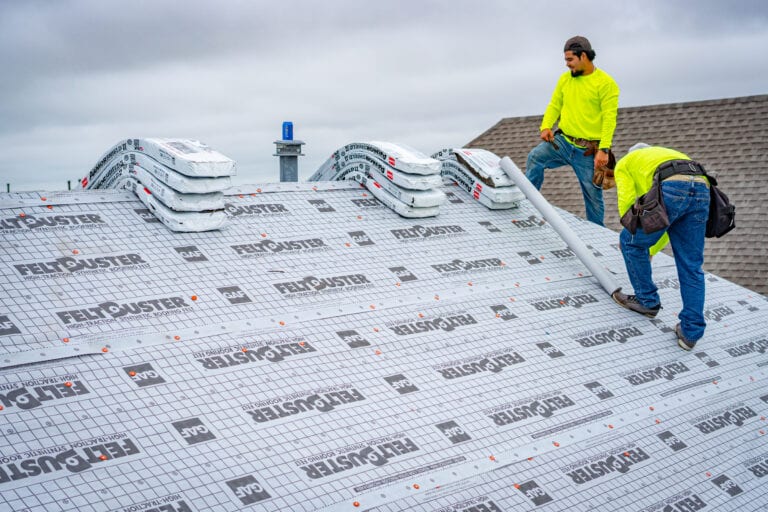 Research shows that slips and falls are the 2nd leading cause of workplace accidents right behind transportation. Synthetic underlayment provides your roofing installer with superior traction to limit dangerous slips and falls. Safe working conditions enable your roofing installer to perform at their best to provide you with an exceptional finished product. For steep roofs, this is not only an essential product but a requirement. No matter how steep your roof is, you can rest assured that your roofing installers are enjoying your project because you chose to put their safety first.
You Just Learned About The Five Benefits of Synthetic Underlayment
You now have a much better understanding of the benefits of synthetic underlayment and how it can prolong the lifespan of your roof along with many other benefits for you and your roofing installers. Synthetic underlayment is a superior product that will save you lots of time and money in unnecessary repairs. It's a clear choice to help you avoid unwelcome surprises. With all these benefits, it's no wonder why many of your neighbors are upgrading to synthetic underlayment instead of the traditional felt.
Contact Us Now
Got more questions about the benefits of synthetic underlayment? Feel free to contact us at any time or visit GAF to learn more about Feltbuster Synthetic Felt.