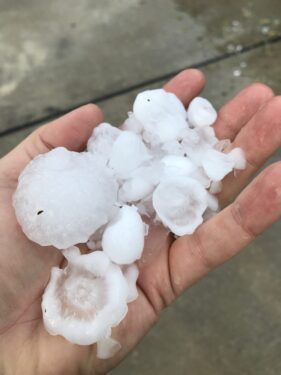 Roof Hail Damage Repair and What You Need To Know
Your roof is your home's first line of defense for protection against severe weather. As a result, a durable roof will keep your family safe and your house protected, no matter what Mother Nature throws at you. Consider that even high-quality roofing shingles can get damaged by a hailstorm. You have to be able to recognize signs of trouble and call for expert roof hail damage repair in Frisco, TX, as soon as possible.
The Real Consequences of a Hail Damaged Roof
Dents, dimples, holes, and cracks may be the physical results of hail damage to your roof, but the real consequences are often much worse. The physical damage may look bad and make you wince, but if you fail to schedule a roof inspection immediately, you may regret it. As experts in professional roof hail damage repair, we know how to spot roof hail damage. Here are just a few items that we pay close attention to after a storm:
Water damage inside the house that weakens the structure or ruins your belongings

Mold and mildew growth that affects the health of your family

Higher HVAC bills if cool air is now escaping to the outside

Insect infestations

Safety issues for your family and visitors

Inconsistent indoor temperatures and reduced comfort level

Potential fire hazard if water gets into electrical components inside the house

Decreased property value
Act Quickly to Get the Most From Your Insurance Coverage
Filing an insurance claim can be an intimidating process for most homeowners. Additionally, most are not aware of filing deadlines. In Texas, insurance companies require homeowners to file their claim within one year from the date of loss to collect their insurance proceeds. Furthermore, if you fail to meet this deadline, your insurance company may deny your claim at a later date. 
As part of our inspection process, we'll first take pictures and thoroughly document all the damage we discover on your home. Following the inspection, we'll install a roof tarp if you have missing shingles. A roof tarp will help prevent the damage from getting worse. You can rest assured that your insurance claim is in good hands with us while you wait for your insurance adjuster to arrive.
Common Signs of Roof Hail Damage 
In most cases, the signs of roof hail damage are noticeable. Occasionally, they're not. In either scenario, have your roof inspected after a storm. Large dents and missing or cracked shingles are telltale signs, but there are also more subtle signs to watch for, including:
Shingle granules that have washed into your gutters

Chips or dents in chimneys or roof vents

Depressions or dents in siding

Damaged gutters

Shiny-looking asphalt shingles

Curled shingles
Working with a Reputable Roofing Company
It is always better to be safe than sorry. Generally, it's best to schedule an inspection if you are unsure whether or not your roof has damage. There is no benefit to not doing anything. In fact, the longer you wait, the more you increase your chances of additional damage to your home. 
At Final Cut Roofing and Construction, LLC, our team has a wide range of experience with roof hail damage repair in Frisco, TX. We can provide you with a roof inspection to assess the situation, then email you a detailed estimate for the repairs. We'll even work directly with you and your insurance company to help secure the funds for your project. This way, you can avoid many of the headaches associated with the insurance process and still get the quality repairs you need in a timely fashion.
Call us today at 1-888-618-3271 or email us from our contact page to schedule your inspection. See how easy it is to start the process.