Drywall or Sheetrock Repair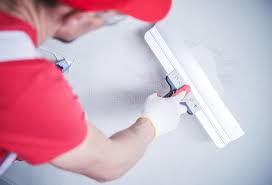 Rainwater only needs a hole about the tip of your pencil to cause some serious damage. Drywall repair is essential to your foundation.Ignoring wind damage to your roof can be detrimental to the interior. A small, inexpensive repair can easily result in the cost of the project to triple over night due to a major thunderstorm.
Before beginning the work to repair the damaged drywall, it's important to consider these:
Size of damage and number of holes
Utility placement in your home
Locate the wall studs
Wear protective gear
Always scrape away loose debris from holes
Use the right type of tools
Have knowledge of any water damage
Age of the home 
Fun Fact: Drywall was invented in 1916 by the U.S. Gypsum Company. It was originally named "sackett board" after the sacket plaster company. Around that time, it was only sold in the form of small, fireproof times. Eventually, their marketing team came up with the term "sheetrock" to improve the reputation of drywall.
Finally, storms aren't the only thing that can cause damage to your drywall. The settling of the building structure, electrical and plumbing issues, and homeowner accidents are common, also. Contact us today at 1-888-618-3271 for a free estimate!