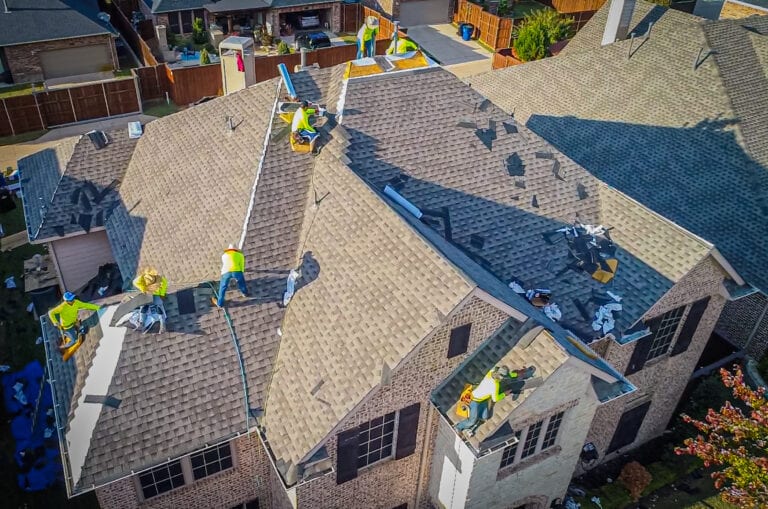 You're looking for honest, reliable roofing contractors that won't waste your time with elaborate sales presentations. You didn't accidentally stumble here. You came here because you're looking for a roofing contractor that will get the job done and won't hassle you with a bunch of hidden fees. That company is us!
"Nobody likes storm damage to their property. That's why we designed a simple 3-step process to help you with your insurance claim and restore your home so you can get back to enjoying life." Mark Nosrati
The Basics About Us
Final Cut Roofing And Construction is a local construction company based out of Frisco, TX. We proudly serve the Dallas/Fort-Worth and surrounding areas. 
Are you wondering if we will bring our talented installers to your town? Visit our coverage area to learn more. 
Year Founded
Final Cut was founded by Mark Nosrati in May 2009 with aspirations of redefining the residential roofing and construction industry with one happy homeowner at a time. 
Our Services
We offer a variety of residential home improvement services such as
roofing

siding

painting

gutters

fence

interior and exterior painting

and drywall repair
Our Hours
We believe in a work/life balance and that everyone deserves quality time with their family. That being said, we are not open for regular business operations on Friday and Saturday. However, we will respond to emergency situations on those days. 
Monday – Thursday: 9 am-5 pm

Saturday and Sunday: Closed
Please note that our hours do change throughout the seasons. However, we happily offer appointments outside of our regular hours of operation. Feel free to contact us for more details.
In The Beginning We Noticed a Big Problem With Roofing Contractors
Working diligently as an independent contractor, Mark Nosrati discovered some big problems in the roofing industry. Roofing contractors were refusing to change to keep up with the pace of homeowner needs and expectations. Roofers and general contractors were not putting the needs of homeowners first. As a result, they weren't delivering exceptional products and services that could improve the lives of their loyal customers. 
2009 was not a very good year to be a homeowner. The housing crisis had caused home prices to plummet. Additionally, homeowners were getting tired of mediocre home repair services. Soon, builders started to offer more "upgrades" as a package deal to restore consumer confidence. Consequently, so did a lot of roofers, general contractors, and many other home improvement service providers. Unfortunately, despite their best intentions, roofing contractors were still not doing a good job listening to their customers. In fact, their so-called "upgrades" of products and services had not improved a whole lot either.
Our Core Values Solve Homeowner Problems With Roofing Contractors
We don't know why it has been so hard for the rest of the industry to see the giant elephant in the room. For us, it was clear as day. We realized that our core values must solve the problems of our loyal customers. Otherwise, nothing was going to change. We decided to stand firm and make these commitments. 
1- Always Put the Needs of Our Customer's First
Roofing contractors are notoriously known for rambling about what products or services they want to push for their sales commission. For us, it's very simple. As a homeowner, you don't need us to persuade you with random upgrades that are not customized to your needs to earn your business. We get it! From our first contact with you, we want to be great listeners and put your needs first. We have to ask the right questions to help you chose the best course of action. That's why we got rid of our "sales" process and started focusing on being problem solvers. As a result, we deliver stunning finished projects and award-winning customer service that makes you feel valued. 
2- Build Every Project W
ith Integrity 
Nobody enjoys dealing with the typical run-of-the-mill roofing contractor that over promise and under deliver. We understand your frustration. It takes a long time to build trust but only a moment to destroy it. Integrity means we always do the right thing and never cut corners even if no one else is watching. It means we stop the job when we're short on custom materials to make an extra trip when everyone wants to go home after a long day. It means religiously holding ourselves to the highest level of standards to deliver results ten times better than the average installer. We refuse to compromise on our work ethic because we know that our reputation is always on the line. That's why we're committed to giving you 110% so that you will be proud to recommend us to anyone and everyone.
"We schedule our projects based on the level of urgency and not by the dollar amount of profit."
3- Deliver Exceptional Customer Services
Whether your project is a small $200 repair or a $35,000 multi-trade renovation, you deserve a contractor that will treat you with the utmost respect and gratitude for your time and the opportunity you've provided. We may enter your home as installers, but you enter our world as guests who we are deeply passionate to serve. That's why we schedule our projects based on the level of urgency and not by the dollar amount of profit. We always put people above profit. It's how we want to be remembered. For us, the bonds that we build within our community is what matters most. Nothing makes us happier than knowing you feel that you have a friend in the roofing industry that you can always count on. 
Our Simple 3-Step Process
Staying consistent with our core values, we simplified our service process. Our services will take you through 3-simple stages. 
Step one: Planning
First, we'll meet with you to learn about your project and to understand your needs. This meeting will not end with an awkward strong sales pitch. This first visit will be an opportunity for both parties to get to know one another, ask questions, look at samples, and collect the necessary information both parties need in order to move forward. 
Step two: Designing
Second, we'll design a custom solution specifically tailored to your individual needs. We always put your needs first. Our goal is to provide you with the best course of action possible. Your design will be emailed to you where you will be able to review the material in the comfort of your own home, or where ever you like, without any pressure from a salesperson. 
Step three: Building
Finally, we'll build your project exactly to the specifications you anticipated. You can kick back and relax while we handle communicating with your insurance, pulling permits, inspecting materials, and supervising installers. From start to finish, you'll be informed at every stage so that nothing will be a surprise. You'll witness the transformation process of your home and enjoy the benefits for years to come. 
You deserve a contractor that will listen to you, provide you with honest feedback, and help you solve your problems without any hassle. 
Contact Us Now – We Make Hiring Roofing Contractors Easy
Call us today or fill out our convenient online form to request an estimate so we can show you how easy it is to make your home feel brand new all over again.