French Drains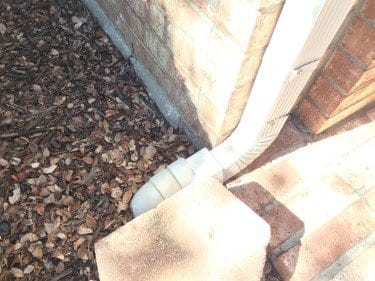 A beautiful way to protect your foundation!
What are French Drains?
French Drains are an elegant and effective way to drain rainwater away from your foundation. Traditional downspouts end at the base where the gutter meets the foundation (example in the top left picture above). When using these traditional downspouts, it becomes necessary to have either a concrete or plastic splash guard at the base. This prevents rainwater from washing out the soil. Unfortunately, these splash guards usually come with their own brand of problems. Plastic splash guards are too light and can move or be blown away in the wind. And oddly enough, concrete splash guards can actually cause water to gather and cause serious maintenance issues such as mold, insects and moist soil. In conclusion, French Drains are the best solution for downspouts that easily get over-flooded.
What are the benefits of French Drains?
Protect your foundation
Recycle rainwater for your flower beds
Add elegant curbside appeal
Low-to-no maintenance for your downspouts
Saves you time and money
How to purchase French Drains?
We will be happy to install French Drains for your home. Call us today at 1-888-618-3271 or click Request a Free Estimate. If you'd like, you can also email us your questions through our Contact Us Page. We customize each installation, focusing on a design that is right for your home. We will consider the steepness of your roof, the number of linear feet of gutters, and appropriate locations authorized under city building codes. You'll save time and money by getting the job done right the first time around.
Don't forget to visit our Blog to stay informed of important topics for homeowners like you!