Siding Services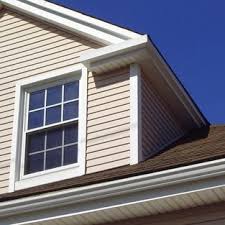 Siding is the protective material attached to the exterior side of a wall of your home or building. It acts as the first line of defense against the sun, rain/snow, extreme heat or cold. Additionally, siding material can enhance your home's beauty. Most siding is made up for weather-resistant material that is smaller than the wall they are covering. There's many different types of siding services and we are happy to find the right kind for you and your home.
Interesting Facts You Should Know About Siding
There are 15 different kinds of siding
Vinyl is the most popular choice in the U.S.
Wooden siding is more susceptible to damage and rot
Aluminum and vinyl are generally the less expensive option
Power washing your siding is recommended
Most vinyl siding is created to meet the America Society of Testing and Materials Standard
Aluminum siding does not rust and can be repainted if the color fades
Steel siding is the heaviest, but is 100% recyclable if you discard it
Siding is usually the first thing that sticks out when looking at a house. It has the unique ability to create a great first impression of your home. We are happy to discuss the different kinds of siding services that could be right for you! Contact us at 1-888-618-3271 for a free estimate.