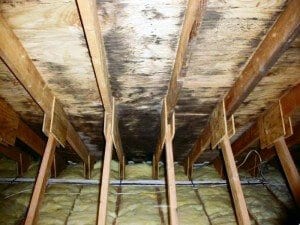 Black mold in the home is a serious matter that can lead to severe health issues. If you have black mold, you may need to invest in roof replacement or even rebuild your entire home. When roof leaks go unchecked, moisture can begin to seep into the home, promoting the growth of spores. Your qualified roofing contractor can stop it at the source.
The prevention of roof leaks is crucial to the prevention of black mold. Essentially, toxic molds can easily spread under the right conditions. Some people are more sensitive to mold and/or fungi than others, but black mold tends to trigger health problems in most of the population. Investing in a roofing tune-up to prevent or catch leaks is an investment in your well-being.
There are a few places in the home where roof leaks and moisture are more likely to lead to black mold. It tends to grow in moist and dark places, such as bathroom showers and cabinets. Roof leaks can also lead to the growth of black mold on the ceilings and even along the walls, in some cases.
Final Cut Roofing and Construction, LLC is dedicated to the health and safety of your home and its inhabitants. It's important to repair a leaking roof and keep your home well ventilated, so that mold doesn't have a fighting chance. It is entirely possible to avoid premature roof replacement or, in the worst case, having to completely move out.
With a qualified roofing contractor like Final Cut Roofing and Construction, LLC by your side, you can rest easy knowing that you are safe from this parasitic fungus.
If you have any questions, please call us today at 1-888-618-3271.